Students occupy Newcastle university block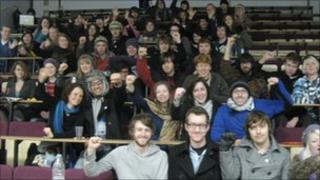 About 60 students have occupied the Fine Arts building of Newcastle University.
It was organised by students on Wednesday evening as part of a day of action against government proposals to raise tuition fees.
The occupation was part of several that took place across England.
On Wednesday hundreds of students from schools, colleges and universities in the city gathered in protest at old Eldon Square.
A statement from the students said: "We occupy in solidarity with all other universities across the country, condemning cuts to higher education, education maintenance allowance and against a rise in tuition fees.
"Our occupation of the fine art building is in recognition of the devastating cuts to arts and humanities that have been proposed."
The students stressed it was a peaceful protest and there would be no disruption to lectures or seminars.
They urged the university to send out a statement of support for all students at schools, colleges and universities involved in this protest.
They also demanded the university release an official statement rejecting the government proposals for Higher Education, condemning any education cuts or rises in university tuition fees.