Vetting failures over sex attacks policeman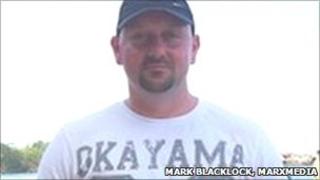 The BBC has learned that a failure in vetting procedures allowed Stephen Mitchell to join the police.
The 42-year-old Northumbria Police officer has been found guilty of two charges of rape and three indecent assaults involving vulnerable women he met on duty.
Mitchell, from Glasgow, was also convicted of six counts of misconduct in a public office.
He was cleared of nine counts of misconduct in a public office, three of indecent assault and three of rape.
When he applied to join the Northumbria force, he filled in an application form asking him if he had ever been investigated or charged with any criminal offence.
Such an investigation - even if it did not lead to a conviction - would normally have been enough to bar him from a police career.
Mitchell answered: "No."
Procedures changed
But, in fact, he had been investigated for a series of sexual assaults on young soldiers while he served in the Army.
The case was due to go to Edinburgh High Court in 1997, but it was dismissed before trial - police sources said it was because the soldiers who made the allegations decided not to press ahead and give evidence.
Northumbria Police say they have now changed the way they vet potential recruits to prevent anything similar happening in future.
In 2006, Mitchell was reported by other officers suspicious of his behaviour.
It followed an incident in which a drunken woman had arrived at Pilgrim Street police station in Newcastle to say she had lost her keys.
Mitchell and a female officer took her back home. But, later that night, after Mitchell had finished his shift, he drove to the woman's home alone and had sex with her.
But he was spotted on her driveway by one of his colleagues - and Mitchell himself told another colleague that he had slept with a woman he had met at work.
In 2007, the matter became the subject of a disciplinary hearing and he was required to resign.
Failings highlighted
However, police procedures meant he should have been given a written record of the charge against him. He claimed that did not happen, and in 2008, he was reinstated.
One senior officer told the BBC: "When he got his job back, we effectively put him in a cupboard.
"We knew we had to keep him away from the public."
Speaking after the trial, Northumbria Police temporary deputy Chief Constable Jim Campbell said: "We acknowledge that this investigation has highlighted some failings within Northumbria Police at both the recruitment stage and when subsequent allegations were made during Mitchell's service with the force.
"Mitchell failed to disclose information which would have prevented him from being appointed as a Northumbria Police officer, but this was not identified when he applied to join the force."
He also said Mitchell had been subject to investigations after complaints by three women.
Mr Campbell said the inquiries were carried out independently but there was not enough evidence to prosecute.
But he said if the complaints had been investigated together, action against Mitchell would have been likely to have been carried out sooner.