Plaque in Northumberland honours Polish bomber crew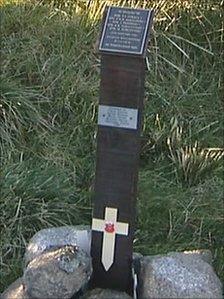 A memorial service has been held in honour of the Polish crew of a World War II bomber who lost their lives when it crashed in Northumberland.
Four members of 301 Pomeranian Squadron died when their stricken aircraft flew into Dunmoor Hill during a blizzard in January 1943. One man survived.
Small fragments of wreckage remain buried at the recently-discovered site in the Cheviot Hills.
During the service a plaque was laid in memory of the dead airmen.
The site was located by Chris Davies, a member of the Air Crash Investigation and Archaeology Group.
He also managed to trace family members of some of the crew. Marta Slaska, the great niece of one of them, unveiled the plaque.
She said that while the death was tragic, there was some comfort in viewing the location.
"When I see this lovely place and all these rolling hills, I know it was a beautiful place to die," she said.
Mr Davies said: "Once I found a family link meant that we could progress to what we have now, otherwise it would just be, 'I've found a crash site'.
"It was nice to finish it this way for the family."
Related Internet Links
The BBC is not responsible for the content of external sites.