New Gateshead leisure centre boasts indoor surfing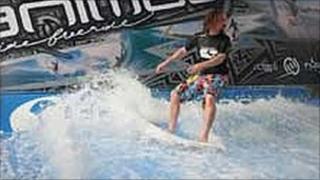 One of only three indoor surfing centres in the country is due to open to the public in Gateshead soon.
The FlowRider surfing machine, the only one North of Bedford, will be the star attraction at Gateshead's Heworth Leisure Centre.
The machine generates a sustained wave effect, giving people the chance to experience surfing and body boarding.
The multimillion-pound centre also has has a four lane 25 metre pool, a gym and a dance studio.
Gateshead Council's cabinet member for culture Linda Green said: "This is an incredible opportunity for our residents to take up a new sport and develop new skills.
"We want to make it as easy as possible for people to make improved lifestyle choices about fitness for themselves and their families."
Heworth's leisure centre is the second of two purpose-built leisure centres to open as part of £36m being invested by Gateshead Council in facilities across the borough.
The centre is due to open on 15 November.