Moles helped rare plants to grow in Northumberland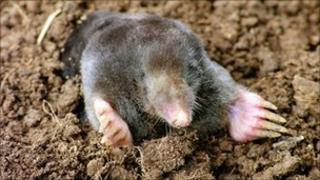 Digging by moles has helped lead to the growth of one of the UK's rarest plants in Northumberland, experts said.
More than 250 alchemilla micans have been found in fields at Haughton Castle Estate, near Humshaugh, in the Tyne Valley.
Natural England said it was believed to be the second significant population of the plant in the UK, with the other also in the county.
It is thought mole activity raised long-dormant seeds to the surface.
Natural England said the mole hills provided ideal conditions to germinate the seeds.
As well as the mole activity, the digging involved in replacing a water pipe is also thought to have brought seeds to the surface.
Laura Black, from Natural England, said: "This is a very exciting discovery and confirms what a special place the North East is for wildlife and nature.
"Our land management team work closely with farmers and landowners throughout the region and together we sometimes strike gold like this hidden gem - on this occasion with a little help from a furry friend."
A plan is now being developed to reduce grazing and allow the plants to grow.