Raoul Moat Taser firm licence 'revoked'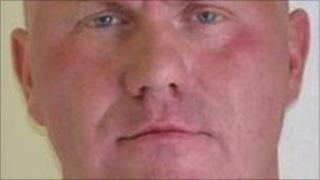 The company which supplied the Tasers used during the six-hour stand-off with gunman Raoul Moat has had its licence revoked.
It was believed at the time of Moat's death that, although the Home Office had not approved the weapons, their use was at the police's discretion.
But it has now emerged supplier Pro-Tect Systems breached its licence by supplying X12 Tasers direct to police.
The Home Office confirmed the firm had had its licence revoked.
Home Secretary Theresa May said the company, based in Daventry, Northamptonshire, had only been permitted to supply the X12 Tasers to its scientific development branch testing.
The firm also "breached rules governing the secure transport of the devices and ammunition," the Home Office said.
Remaining stock
But in a letter to the Commons Home Affairs Select Committee, Crime Prevention Minister James Brokenshire said short-term authority had been granted to allow the firm to dispose of its remaining stock.
He added: "You will wish to know that we are working with Acpo (Association of Chief Police Officers) to ensure that police forces continue to have adequate Taser stocks to cover any transition period that may follow from Taser International identifying a new UK supplier."
The Home Office said it was "satisfied that the company supplied X12 Tasers and XRep ammunition to Northumbria Police and to another police force contrary to its authority".
There is no suggestion firearms officers were at fault.
Moat died after a six-hour stand-off in Rothbury, Northumberland.
He was on the run after shooting his former girlfriend Samantha Stobbart, 22, killing her new boyfriend Chris Brown, 29, and blinding Pc David Rathband, 42.
A Home Office spokeswoman said: "Inquiries following the Raoul Moat operation revealed Pro-Tect breached its licence by supplying Tasers direct to police that were only available for supply to the Home Office science and development branch.
"The inquiries carried out by Northamptonshire Police also revealed the company breached rules governing the secure transport of the devices and ammunition.
"Faced with these breaches, the home secretary has decided to revoke Pro-Tect's licence to supply Tasers."
'Lawful and reasonable'
The Home Office has stressed police could use any weapon they saw fit as long as its use was "lawful, reasonable and proportionate".
The Taser, which is fired from a 12-gauge shotgun, was being tested by the Home Office before being approved for use by police forces in England and Wales.
Police fired two Tasers at former nightclub doorman Moat in an "effort to stop him taking his own life", an inquest in Newcastle has heard.
The Independent Police Complaints Commission (IPCC) is investigating the events leading up to Moat's death.
A spokesman said: "The IPCC investigation is on-going and is looking into the acquisition, authorisation and deployment of the XRep Tasers from a police perspective.
"Licensing of weapons is a matter for the Home Office."
Supt Sean Bell, head of operations for Northamptonshire Police, said: "Following a request from the Home Office, Northamptonshire Police conducted an investigation into the supply of X12 Taser guns.
"We are now considering whether or not to take further action against Pro-Tect in connection with breaching the conditions of their licence."