Raoul Moat death play defended by show creator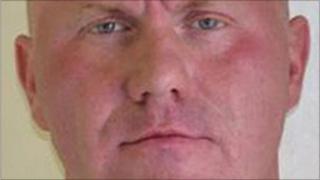 The creator of a one-man show about the death of gunman Raoul Moat has defended it as "a representation of a contemporary issue".
Mark McGowan performed the Re-enactment of the Assassination of Raoul Moat at an arts festival in London.
In it he wore a picture of Moat's face over his own and played a soundtrack of news coverage of his final hours.
He said he was sorry if it upset victims' relatives, but the role of art was to challenge.
Moat shot his former girlfriend Samantha Stobbart, 22, killed her new partner, Chris Brown, and wounded Pc David Rathband on Tyneside in July.
He went on the run for a week, before shooting himself during a stand-off with police in Rothbury, Northumberland.
Mr McGowan, who has also created a show about the Shannon Matthews case, said: "One of the things that people have a problem with is art as a form of representation of a contemporary issue."
'Dust settle'
He denied that the show portrayed Moat in a sympathetic light.
"He was a bad man," he said.
"He killed people. That's inappropriate, more than inappropriate, you can't go round expressing anger in that way, it's just wrong."
Referring to the relatives of Moat's victims, he added: "There's no way in the world that I'd want to hurt anyone, but being an artist, that's always difficult.
"Being a witness to your times is very challenging, it's difficult not to affect people if you are doing your job."
Pc Rathband, who was blinded when he was shot in the face by Moat, said: "People have a right to know what happened, but let the dust settle first.
"Let all the investigations finish and then people will be better informed."
He added: "It's certainly not a show I would be going to, that's for sure."