Tributes at Army dog handler Tyneside inquest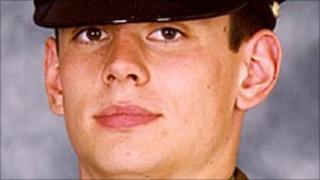 An inquest heard tributes paid to a "highly-regarded" Army dog handler who was killed in Afghanistan the day after he was due to return home to Tyneside.
L/Cpl Kenneth Michael Rowe, 24, from Newcastle, of the Royal Army Veterinary Corps died in Helmand in July, 2008.
He and his explosives sniffer dog Sasha were killed after coming under Taleban fire during a routine patrol.
The coroner recorded a verdict of death while on active service at the inquest in North Shields on Thursday.
The inquest heard L/Cpl Rowe had asked to stay on in northern Helmand, near Sangin, because he was worried about a lack of cover for comrades.
'Always remembered'
Lt Col Freddie Kemp of the Parachute Regiment appeared at the inquest at the Riverside Centre.
He said: "Dog handlers occupy a unique position in any military order of battle and the blend of character, experience and professionalism I know Kenneth brought to this role meant, and I can say this as a Parachute Regiment officer, Kenneth was regarded as highly as one of their own.
"The whole company, the whole of the battalion, took his loss very personally. He was an exceedingly capable and highly-regarded individual."
After the inquest, the soldier's uncle Gary Haughan said the family were relieved the inquest was complete and thanked the coroner.
"The pain of Kenneth's death is as acute today as it was just over two years ago," he said.
"He will always be remembered by everyone that knew him."