Raoul Moat victim Pc David Rathband starts £1m charity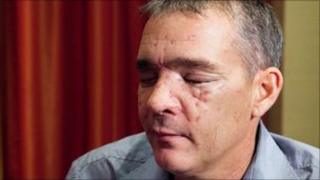 The police officer blinded by Raoul Moat has officially launched a charity aiming to raise £1m for emergency service members injured by criminals.
Northumbria officer Pc David Rathband was shot in the face by the gunman as he sat in a patrol car in July.
Pc Rathband said he wanted the Blue Lamp Foundation to give direct financial help to injured police officers, firefighters and paramedics.
So far more than £3,000 has been donated or pledged.
Dragon's Den star Duncan Bannatyne has agreed to the charity's patron.
Mr Rathband, who said he was hoping to return to work soon, said he wanted to do something to help as many emergency personnel as possible who suffered injury in the line of duty.
Talking to victims
He said: "We are aiming to raise our first million within three years.
"This money will go directly to those who need it the most, the police officers, fire officers and ambulance crews.
"Donations will help us to offer financial aid, allowing those injured to carry on without the fear of being in financial difficulties."
Mr Rathband said he had been in talks with Northumbria police about returning to work.
He said: "I had a conversation with my chief constable yesterday. We are looking at other avenues where I can fit into the organisation. I just hope I can find a job that will give me same satisfaction as when I was on the front line.
"I hope I can be involved in talking to victims of crime, children and students, but it is early days yet."
After the shooting, he said that he "bore no malice" towards Moat, who later shot himself in Rothbury, Northumberland, following a week-long manhunt.
Northumbria Police has confirmed Mr Rathband is still employed by the force and receives his full salary.