Tyneside teenager speaks at Papal vigil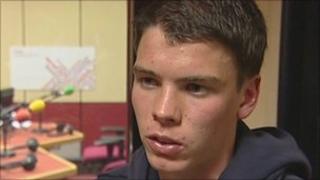 A Tyneside teenager will be addressing a crowd of more than 80,000 people during the Papal visit to the UK.
Declan Stokle will address an audience which will include Pope Benedict XVI and speak about human rights abuses in Burma.
The 17-year-old, from Gosforth, has made a number of visits to help people in refugee camps on Burma's border.
He said the prayer vigil, in London's Hyde Park, would be a chance to publicise the situation in Burma.
Declan, who describes himself as a "normal Geordie lad", first visited a refugee camp at the age of 10, with his family.
He said: "I've seen the atrocities over there, children my own age who've suffered so much, and felt the need to start campaigning, and gradually started to speak in front of people.
"Obviously it's a massive opportunity to publicise Burma to the world media.
"That will be a great thing for the people of Burma, who don't get much publicity, which is a great shame because it's a horrendous military dictatorship which runs the country."
He added: "I am pleased to be speaking in front of 82,000 people in the hope that this will publicise the situation for these communities.
"The people of Burma do not have a voice, I have to be that voice."