Inquest told of Tyneside soldier's bravery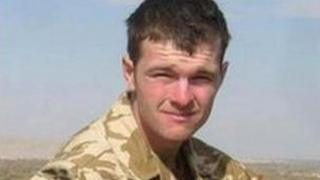 An Army bomb disposal expert was killed in Afghanistan on New Year's Eve after attempting to demolish a booby-trapped wall, an inquest has heard.
Sapper David Watson, 23, from Gateshead was fatally wounded by a roadside explosive device in Helmand Province.
He served with 33 Engineer Regiment, Royal Engineers, and was based at Carver Barracks in Wimbish, Essex.
A verdict of unlawful killing while on active military service was recorded by Gateshead coroner on Thursday.
Sapper Watson was part of a four-man munitions disposal team stationed at Forward Operating Base (FOB) Jackson in Northern Helmand.
'A warrior'
He volunteered to help make safe the area surrounding nearby Patrol Base Blenheim on the Afghan front line.
He was demolishing a series of walls being used as firing positions by enemy forces, when he was hit by the explosion.
The inquest heard that he laughed and joked with medics battling to save his life, even though he knew he was mortally wounded.
Sapper Watson was evacuated by helicopter to the main British Army base in Afghanistan, Camp Bastion in Lashkar Gah.
He suffered a heart attack and died in the operating theatre.
Recording a verdict of death due to unlawful killing while on active military service, Gateshead coroner Terrence Carney said Sapper Watson had suffered "irrecoverable blast injuries caused by the explosion".
Speaking shortly after Sapper Watson's death his family had said he had been "living the dream".
Lieutenant Colonel Gareth Bex, Royal Logistic Corps, commanding officer, said earlier: "Sapper Watson was the epitome of a warrior: fearless, ruthlessly determined and a great team player.
Sapper Watson's funeral was held at St Mary's Church in Whickham on 19 January.