Arsonists 'behind three Northumberland farm fires'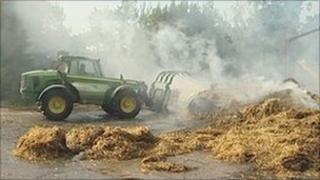 Firefighters are damping down a farm fire in Northumberland - the third in the last 24 hours.
The fire was started at a farm near Belford on Wednesday night and the smoke was so thick that police were forced to close the A1 for two hours.
Police are treating it as suspicious and are linking it to two other barn fires in the Morpeth area on Tuesday evening.
During all three attacks straw bales were set alight.
'Mindless pattern'
The two blazes on Tuesday were 15 minutes apart. Peter Hogg, runs Causey Park farm, one of those affected.
"You can't understand what has happened from a normal person's point of view," he said.
"There is obviously some mindless pattern being followed by some mindless people."
There were no animals in the barns at the time on Tuesday but a substantial amount of damage was caused.
Morpeth neighbourhood inspector, Alison Best, said the two fires were also being treated as arson attacks.