Search on for tiny missing Northumberland exhibits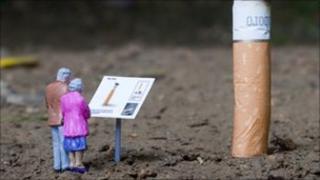 A fingertip search is under way for 10 tiny figures missing from an exhibition in Northumberland.
The little people, measuring just over an inch, were placed in the grounds of Belsay Castle a year ago.
They have since been replaced with large photos but the exhibitors would like to find out where they ended up.
London street artist Slinkachu, who created the figures, said he hoped they had all gone to good homes.
Curator Judith King said some of the figures could have been knocked over, blown away, or even eaten by rabbits.
She said: "The important thing is that Slinkachu creates them, customises them, and puts them in place.
"Then he turns his back on them to leave them to fend for themselves. He gives them their own life, as it were."
The exhibits are part of a larger exhibition featuring new works by contemporary artists such as Australian sculptor Ron Mueck.
It is already breaking records at Belsay Castle, with more than 55,000 people visiting it since it opened on 1 May. It closes on 24 September.