Mourners gather in Newcastle for funeral of Raoul Moat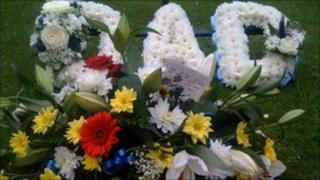 About 120 mourners lined the road leading to the crematorium in Newcastle, waiting for the arrival of their relative, friend, colleague and neighbour, Raoul Moat.
On the opposite side of the road, the presence of about 40 members of the media acted as a stark reminder that this was the funeral of a man who had dominated the headlines in the week leading to his death.
The father-of-three shot his former girlfriend Samantha Stobbart and killed her new partner Chris Brown before shooting and blinding police officer David Rathband.
Moat, 37, attracted a mass online following while on the run from the police for a week.
One woman travelled 10 hours to wait outside the private funeral because she believed Moat was "a hero" for evading capture by police officers during the week-long hunt.
Loud speakers
Theresa Bystram, from Weybridge, Surrey, made the trip with her three teenage sons.
Such support had earlier been widely condemned. Prime Minister David Cameron said that he could not understand the sympathy being expressed for Moat, whom he branded a "callous murderer".
But as Raoul Moat's coffin was carried into the crematorium "Behind Blue Eyes" by The Who was played out on loud speakers.
The opening lyrics, "no one knows what it's like, to be the bad man, to be the sad man, behind blue eyes", were a poignant reminder to the mourners that Moat was a tormented man.
For the family of Raoul Moat, his victims and their families, his funeral marked the end of a tragic story.
A bouquet from Moat's brother Angus was placed among the floral tributes. The card read: "Raoul, it didn't have to end like this. Sleep tight bruv. Until Later, Angus."