Jail for man who killed soldier outside Newcastle club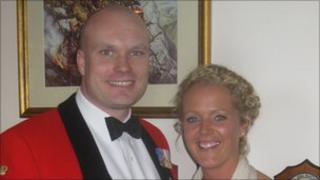 A man has been jailed for killing a soldier from Pembrokeshire in a "cowardly and unprovoked attack" outside a Newcastle nightclub.
Michael Ridley assaulted Staff Sergeant Chris Chacksfield, 31, outside Babylon 90 in Newgate Street on 31 May.
The 22-year-old, from Newcastle, was jailed for five years after admitting manslaughter and grievous bodily harm.
Adele, the 32-year-old wife of Staff Sgt Chacksfield, from Haverfordwest, was also injured in the incident.
Newcastle Crown Court had earlier heard the soldier was staying at Albermarle Barracks in Northumberland at the time of the attack. He had been allowed a night off to spend time with his wife.
Staff Sgt Chacksfield, a father-of-one, was taken to hospital after the attack, but died from head injuries three days later.
His wife was released after treatment.
Police said the soldier of the 14th Signal Regiment (Electronic Warfare), who was with colleagues at the time of the incident, had not been in uniform at the time and was not believed to have been targeted because of his occupation.
After sentencing, Det Ch Insp Steve Binks, of Northumbria Police, said: "Chris Chacksfield died following a cowardly and unprovoked attack by a stranger.
"Ridley's actions on that night have devastated a family, robbed a little girl of her father and taken away a distinguished military career. It's a tragic and senseless waste.
"Nothing can make up for Chris's death, but I hope the outcome of this investigation will give some sense of closure to his family and help them to start to move on with their lives.
"I would like to pay tribute to Adele Chacksfield, who, despite also being injured in this incident, has shown great courage and dignity throughout the investigation and judicial process."
The court was told Staff Sgt Chacksfield met his wife, who is a British Army nurse, while on active service.
The prosecution said amateur boxer Ridley, of Sceptre Place, Newcastle, landed a ferocious punch on the soldier after they apparently bumped into each other.
Some witnesses said a single blow felled the couple, who had been walking arm-in-arm through the city centre.
The soldier's widow Adele described him as a "gentle giant" who cared deeply for his family.
She said she could not remember anything about Ridley's attack, but added that prison was "the best place for him".
Judge Esmond Faulks told Ridley: "This was a dreadful tragedy brought about by your behaviour."
After he was arrested, police found testosterone used by body builders at Ridley's home.