Arsonists target lifeguard station in South Shields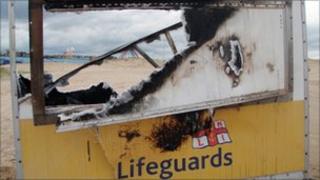 A mobile lifeguard station has been destroyed in an arson attack on South Tyneside.
The mobile lifeboat unit (MLU), which was positioned at the north end of Sandhaven beach in South Shields, was burnt out on Sunday night.
It is the second time in as many weeks that the unit, operated by the Royal National Lifeboat Institution (RNLI), has been targeted by vandals.
The £30,000 unit was paid for by donations from people in South Shields.
The charity has said it does not plan to replace the unit for the rest of the summer season.
Public 'generosity'
Michael Charlton, RNLI area fundraising manager, said: "The RNLI operates the lifeguard service and pays for all equipment and lifeguard training costs through charitable donations.
"We rely totally on the generosity of the public to operate as a maritime emergency service and are dismayed that vandals would deliberately target equipment provided for lifesaving purposes on the beach."
Lifeguards will use an extra patrol truck as a roving lifeguard base while work continues to provide a permanent base at the beach ready for next summer.
RNLI area lifeguard supervisor Ben Mitchell, added: "The loss of the MLU will not affect the lifesaving service we provide, but it is an inconvenience and represents a large financial loss to the charity."
The units have solar-charged electrical systems capable of powering radios, a water pump and a cool box.