Dali masterpiece on show in Bishop Auckland Spanish Gallery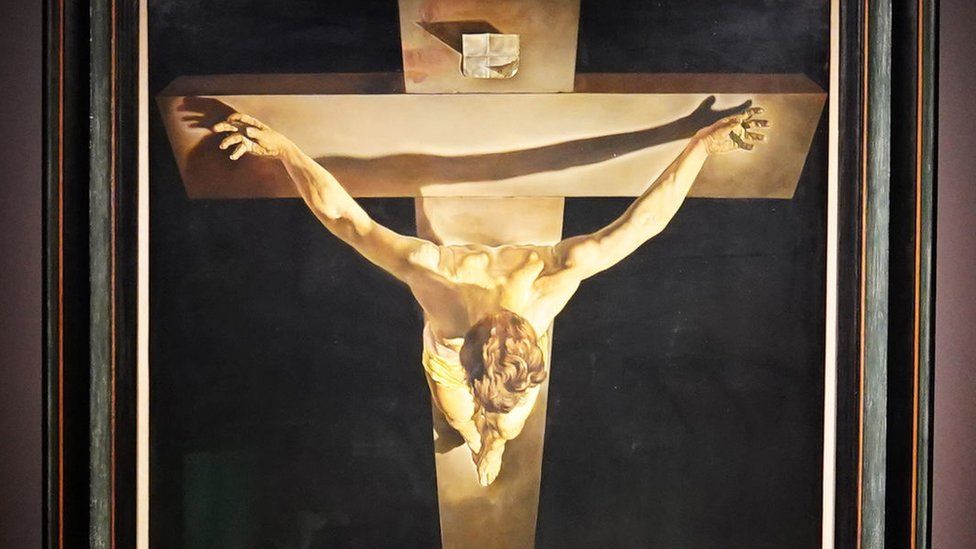 A painting by the Spanish surrealist Salvador Dali is to be put on show in north-east England.
Christ of St John of the Cross is being loaned to the Spanish Gallery in Bishop Auckland by Glasgow Life Museums.
It will be displayed alongside El Greco's Christ on the Cross, which was bought by the gallery in 2015.
Jonathan Ruffer, founder of The Auckland Project which owns the gallery, said it was "really a wonderful thing" to have the work.
"I've always been a great believer in the power of incongruity and one of the reasons that we have a Spanish gallery is because of how unlikely it is that there should be such a thing," he said.
The two masterpieces form part of the "Golden Age" of Spanish art.
The Dali, which shows the crucified Christ from above, was first displayed in Glasgow in 1952, with the artist striking up a friendship with Kelvingrove Museum and Art Gallery's then director, Dr Tom Honeyman.
Dr Honeyman tried to persuade Dali to come to Glasgow but Dali disliked travelling and refused to fly.
Although producing images of the death of Christ was popular when El Greco was working in about 1600, it was "a very unfashionable thing to do" by the time Dali created his work in 1951, Mr Ruffer said.
"It raises the question what is that picture about and if you put it next to El Greco, whose pictures of the crucifixion are extraordinarily powerful, it asks the question what do you see when you look at these things," he said.
The works will be exhibited from Saturday until 4 December.
Glasgow Life's head of Museums and Collections, Duncan Dornan, said the Dali was a "favourite with Glaswegians and visitors" to the city.
"Loaning key pieces allows people across the country to access and enjoy them," he said.
Related Internet Links
The BBC is not responsible for the content of external sites.