Thornaby demolition dust window clean offer 'an absolute laugh'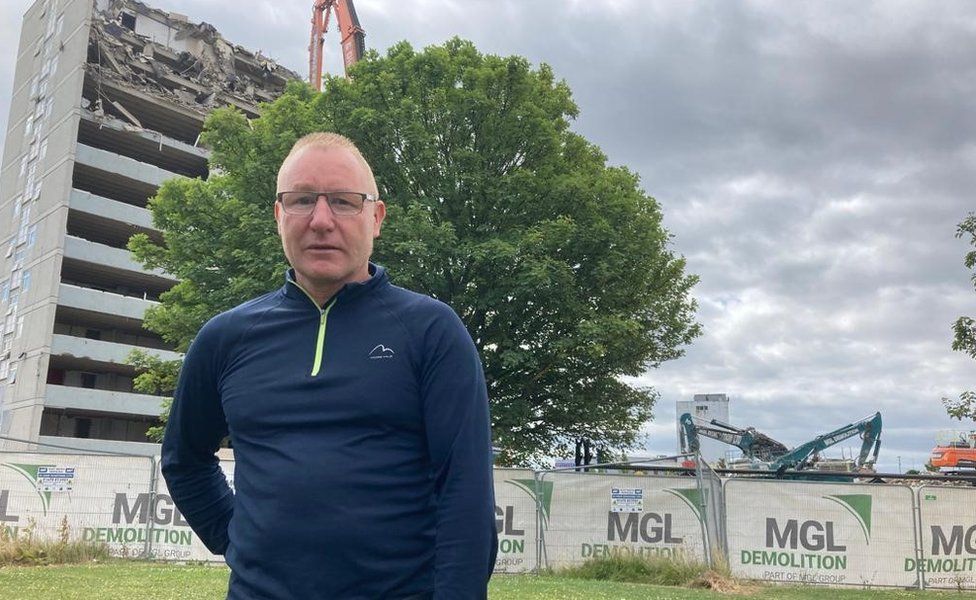 An offer of window cleaning for homes covered in dust from a nearby demolition site has been dismissed as "an absolute laugh".
Anson House and Hudson House tower blocks in Thornaby, Teesside are being brought down by contractors working for social housing company Thirteen.
Councillor Ray Godwin said the problem with the dust had left residents "fuming".
Thirteen apologised and said it was "monitoring the situation closely".
Mr Godwin, who serves on Stockton Borough Council, said the window clean was insufficient and residents could not get through on the company's switchboard to book one anyway.
"The dust continues to build up in residents' homes, they're breathing it in and it's getting in their eyes," he said.
"People are complaining they're treading it on their carpets and they can't open their windows.
"Thirteen's token gesture is nothing - they're having an absolute laugh."
Measures to counteract the dust include debris netting, using water to suppress dust particles and pausing demolition when children are on school breaks, the Local Democracy Reporting Service said.
Mark Canham, who lives nearby, said the dust was "just everywhere" and questioned how spraying water on the tower helped "when most of the dust is coming off the rubble".
His neighbour Sandy Ovenden, 78, said one window clean would not be enough.
"This whole estate was engulfed in that stuff," she said.
Sue Randall, whose home faces onto the demolition, said the situation was "a nightmare" and the window cleaning offer an "insult".
She said residents wanted the flats demolished but were worried for their health.
Mr Godwin has called for weekly window and car cleaning and a £100 goodwill payment to all householders.
Thirteen director Paul Jenkins apologised to customers having difficulty contacting the company and suggested they call when phone lines were less busy.
Issues should reduce later in the week when Hudson House was brought down to a lower height with work expected to be completed by mid-August, he said.
Related Internet Links
The BBC is not responsible for the content of external sites.