Tina Robson inquest: Childhood trauma led to drug use, mum says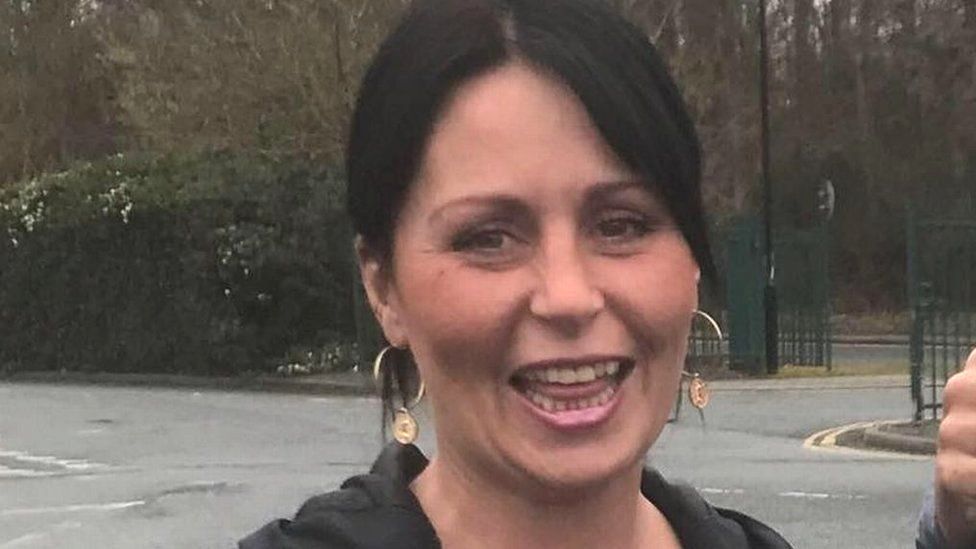 A woman who died from a drugs overdose at a homeless hostel had "unmet needs" from childhood trauma, her mother has told a coroner.
Tina Robson, 35, died at Bridge House Mission in Stockton on 26 July 2020 after taking a fatal mixture of drugs.
Her mother Dr Sue Robson told Teesside Coroner's Court her daughter had been addicted to heroin since the age of 15 and never got the help she needed.
Hostel management said Ms Robson was "difficult, chaotic and complex".
Dr Robson said her daughter suffered trauma including "severance" issues and abuse when she lived with other relatives at the age of nine.
She said Ms Robson was expelled from mainstream schooling and put in a specialist facility for children with behavioural difficulties where she was the only girl, leading her to fall in with men who would use her for sex and introduced her to drugs.
Dr Robson said her daughter had "unmet needs" in relation to the trauma and used drugs as a result, with her substance abuse causing further "complications" leading to more needs.
She said she "never gave up" on her daughter and "Tina did not want the life she had".
Assistant coroner Karin Welsh has heard Ms Robson moved into Bridge House on 20 July after her mother raised concerns her daughter's home in Thornaby was being repeatedly attacked by vandals.
Dr Robson said she was "relieved" when Ms Robson was admitted to Bridge House as although she considered it "unsuitable" for her daughter, it was "the best that was available".
Dr Robson was asked if any place suitable to meet Ms Robson's need actually existed, to which she replied there were such facilities but they were like "hen's teeth" for their rarity.
She said: "Tina needed specialist, single-sex provision with workers experienced in lifelong trauma and the challenge of helping someone who has reached her 30s with unmet needs that go back to childhood."
The inquest has heard social workers from Stockton Borough Council met Ms Robson and her mother at Bridge House on 22 July at which Ms Robson disclosed her previous trauma.
Dr Robson said she was "grateful" the social workers appeared to be listening and Ms Robson appeared to trust them as she had never spoken to people before about her childhood abuse.
The social workers told the inquest they went away to look for support services, such as counselling, to help with the trauma and a further meeting was to be held in early August.
Bridge House service manager Jennifer Glenton told the inquest she initially refused Ms Robson a room due to historic problems with her.
Ms Glenton said she only accepted Ms Robson back to Bridge House on the basis it would be for a short period while other housing was sourced for her in Sunderland.
She said Ms Robson had had five tenancies at Bridge House between 2015 and 2020 which had all ended with Ms Robson persistently refusing to engage with support services and breaking house rules.
Ms Glenton said Ms Robson was "one of the most difficult, chaotic and complex people" she "ever came across".
Ms Glenton said Bridge House was "not a care home" and its sole purpose was to help people go on to move to their own homes.
She said staff would not normally check on residents in their rooms unless they had a specific cause for concern at that time, adding they were being prepared for independent living where there would not be supervision.
"Unless we have real, real concerns we should not be going into residents' rooms," she said.
During the pandemic, staff were told even more so to refrain from entering rooms, she said.
She said any resident on drugs was at risk of "going over" - meaning overdosing - at any time and it would not be possible to constantly check all 29 rooms with Bridge House home to some of the most "complex" people in Stockton.
Ciara Bartlam, representing Dr Robson, asked Ms Glenton if Bridge House was a "suitable place" for a woman with Ms Robson's needs.
"It can be," Ms Glenton replied, adding: "We get people very similar to Tina but they are wanting to make changes and work with us.
"We have had some really good success stories."
Related Internet Links
The BBC is not responsible for the content of external sites.