Trimdon Station ex-care home fire: Boy, 12, arrested over blaze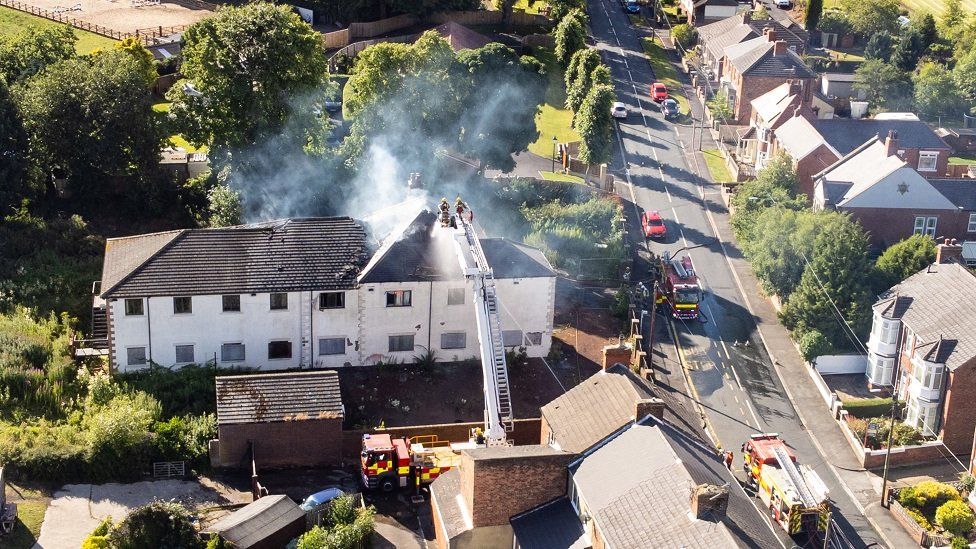 A 12-year-old boy has been arrested after a fire at an ex-care home.
About 25 firefighters tackled the blaze at the former Ashley House in Trimdon Station, County Durham, on Sunday afternoon.
A neighbour who called for help when he spotted the fire said he had made "hundreds of calls" to authorities fearing an incident.
Durham County Council said it was working with the building's owner to make the site secure.
Paul Whitelock, who lives nearby, said every time he had seen someone going into the building he had called police.
"Nearly every week that's happening," he said.
"Hundreds of calls I've made to police, I've even spoken to councillors and the fire brigade whilst they are carrying out derelict building checks."
He said he called fire crews after spotting flames coming from the roof of the building in Thornley Road at about 14:45 BST on Sunday.
Firefighters at the scene were worried about the roof collapsing and as a precaution officers from Durham Constabulary closed Thornley Road between the B1278 and Station Road West.
The boy arrested on suspicion of arson has been interviewed and released while investigations continued, the force said.
Officers said they were not looking for anyone else in connection with the incident.
Mr Whitelock said the building still included "loads of mattresses" and old clothes.
He said a petition had previously been submitted to the council to demand action.
He added: "Hopefully now the fire brigade will get them to take the building down because it needs to happen."
Stephen Reed, Durham County Council's planning development manager, said: "We are currently reviewing the condition of the building following the fire, and will be working with the owner to find a solution that seeks to ensure the safety and security of the site."
A spokesperson for County Durham and Darlington Fire and Rescue Service said it was working with Durham Constabulary investigating the cause of the blaze.
Related Internet Links
The BBC is not responsible for the content of external sites.