Teesside Airshow: Gridlock caused by poor planning and few staff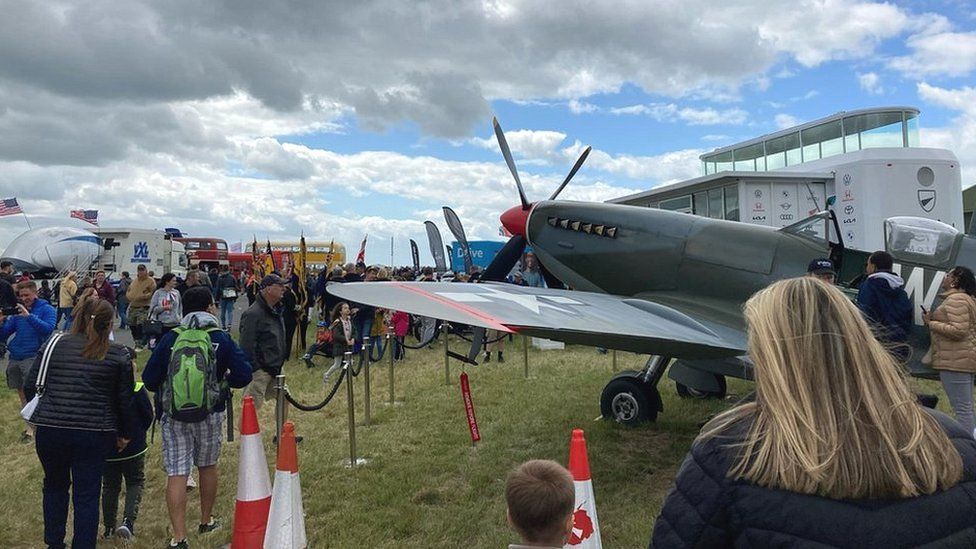 An airport is "very unlikely" to hold another air show after bad planning led to gridlocked traffic which caused people to miss flights, its boss said.
Teesside International Airport was due to host 22,000 people for the sold-out event earlier this month.
Failings in the planning and management of the Teesside Airshow led to huge queues of traffic, a report by airport managing director Phil Forster found.
Details of a refund process for people who were affected have been announced.
Many people who had bought tickets to the air show on 11 June did not make it in time and watched displays while stuck in traffic queues on the A67.
The report concluded there were failings in both the management and planning of the event, with meetings held before it described as "infrequent".
In conclusion he said the airport was "very unlikely" to host another air show in the future "without significant reassurance and comfort from key public sector stakeholders and any future event manager that all issues raised within this report would be addressed".
On the day, more than 2,500 cars turned up without pre-booked parking passes and that added to delays in getting vehicles on the site, the report found.
Traffic management was described as being inadequate, with staff who were "unprepared for traffic volumes" described as "reactive" rather than "proactive".
There were only five people managing traffic flow at the event, the report said.
Some members of the public also reported seeing some transport management staff sitting in their vehicles, even where problems were clearly significant, Mr Forster said.
The traffic management company had warned organisers beforehand it would take four hours to process the number of cars booked for the event and get them parked but this information was not passed on to the airport, the report found.
No arrangements had been made for police to attend the event, and only representatives from Durham Police were invited to a Public Event Safety Advisory Group (PESAG) meeting in March, Mr Forster said.
Although the event attracted many visitors from Teesside, Cleveland Police were not asked to attend any meetings, and the report found joined-up working between the two police forces could have "benefitted the planning process and capacity issues".
Mr Forster said meetings held lacked senior staff and were without "clear communication on discussions and action".
He added the airport's plans to become more sustainable and increase passenger numbers were "key to its future" and it could not host any further events "outside our core activities which could negatively impact on our service to our customers".
He added they would ensure "disruption of this kind does not happen again at the airport".
While the scope of the report was not to address refunds, Tees Valley Mayor Ben Houchen has confirmed the refund process with SkyLive Air, the event organisers.
Ticketholders have been asked to return their tickets along with a stamped-addressed envelope to get their money back.
Related Internet Links
The BBC is not responsible for the content of external sites.