Hartlepool fishermen fear for future after crab deaths
By Luke Walton
Political correspondent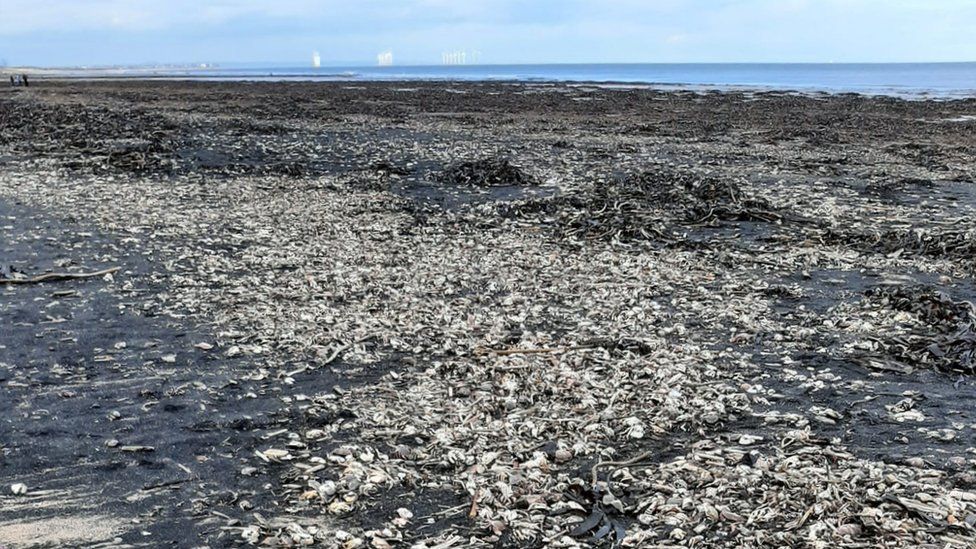 Fishermen fear for their future after the deaths of thousands of crabs and lobsters off the North East's coast.
Campaigners and fishermen disputed that and instead cited the dumping of dredged materials from the River Tees, which was "ruled out" by officials.
Fisherman Paul Widdowfield, from Hartlepool, said he had caught "nothing at all" since October.
"It's been abysmal," he told the BBC, adding he had had to let two crew members go.
His son Jamie said: "It's heart-breaking really. I think by the end of summer if we can't find a fishing ground I'll be out of a job."
Crab fisherman Stan Rennie said his family had fished the waters off Hartlepool for hundreds of years but he feared that would be "lost" with him.
"We don't know how the eco-system can come back," Mr Rennie said.
The Department for Environment, Food and Rural Affairs (Defra) investigated the deaths and said a "naturally-occurring harmful algal bloom" was the probable cause having "ruled out" chemical pollution, sewage, animal disease, and dredging.
Tim Deere-Jones, a marine pollution researcher commissioned to investigate by Whitby Fishermen's Association, disagreed.
Based on information from Defra via a Freedom of Information request, Mr Deere-Jones said quantities of the chemical pyridine were more than 70 times higher in some crab samples.
He said he believed that came from "contaminated sediment" being dredged out of the River Tees, with more dredging to be done to allow larger ships into the new Tees Freeport.
Defra said it found "no evidence of a link between the disposal of dredged sediment and the deaths" and the pyridine was not found in the sediment or water samples they tested meaning it "is likely to be linked to biological processes" in the crabs.
They also said a survey in January found "live healthy crabs present in the area albeit in reduced numbers".
Environmental campaigners and fishermen staged a protest in May saying the deaths were a "huge ecological disaster".
Sally Bunce, a volunteer marine mammal rescuer who took part in the protest, said there had been a "very big die-off" in April involving "thousands of crabs and lobsters" followed by razor clams.
"We basically had an entire dead zone across the sea bed about four miles out," she said, adding that the dredging of more materials from the Tees was "just unthinkable".
Simon Clarke, Conservative MP for Middlesbrough South and East Cleveland, said he "completely understood the concern" but he had "no reason to doubt" the judgement of the government's findings.
He said: "The very best explanation Defra scientists can provide is this is connected to an algal bloom which has basically starved sea life of oxygen.
"They are clear in their view this is a natural occurrence rather than anything to do to any respect with work on the Tees.
"I understand people will always want explanations for things which seem extremely unusual and are causing real damage to an industry we all value but I have no basis for doubting the advice I have seen.
PD Ports said it was "required by law" to regularly dredge the river and the work was done "in compliance with strict environmental regulations".
The firm said it shared concerns about the deaths and impact on the "livelihoods of thousands of people working in all industries that depend on the river".