Bishop Auckland Mining Art Gallery opens gala show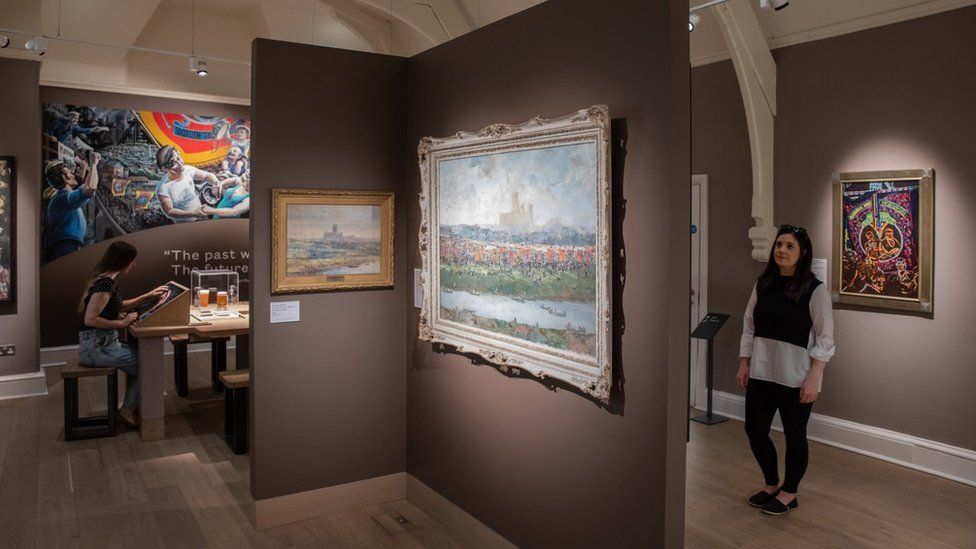 An exhibition of artworks by miners celebrating the famous Durham Miners' Gala has opened.
The first gala, also known as the Big Meeting, was held in Durham's Wharton Park in 1871.
The exhibition, which includes the earliest known depiction of the gathering, runs until the end of 2022.
Anne Sutherland, assistant curator at The Auckland Project which operates the Mining Art Gallery, said: "The artworks document the course of the day, capturing the spirit of the Big Meeting and demonstrating its significance for the people of County Durham and the wider mining communities across the region."
Ross Forbes, director of the Durham Miners' Association, said "tens of thousands of people" would take to Durham City's streets accompanied by banners and bands as part of the "annual reminder of the resilience and dignity of working people who cherish their collective values".
Below are some of the works on display.
The painting above, by an unknown artist, dates from the 1880s and is thought to be the earliest depiction of the gala.
The unfinished Impressionist-style picture shows throngs of miners and their families at the racecourse.
John Bird's painting, The Years of Victory, celebrates the nationalisation of the coalmines in 1947, which miners saw as a triumph in their campaign for better rights and pay.
Russian artist Kirill Sokolov created the above collage, one in a series of four, in 1984 from discarded materials he found at the gala.
It was a personal response to the 1984 miners' strikes and is one of more than 420 pieces owned by the Gemini Collection, which seeks to buy and protect mining art.
George Robson's oil on canvas painting, called Easington Banner, was created in 2000 and is also owned by the Gemini Collection.
Mr Robson, the former secretary of Durham Miners' Association, retired in 1993 to become a full time artist and played a key role in organising Galas for many years.
Tom McGuinness is one of the most celebrated artistic miners and his oil on board work Durham Big Meeting was created in 1968.
He was a Bevin Boy, one of those conscripted to work in the coal mines in 1944, and "produced one of the finest collections of industrial art", the Auckland Trust said.
All pictures are subject to copyright.
Related Internet Links
The BBC is not responsible for the content of external sites.