New Bilsdale TV mast to boost fire damage signal to turn on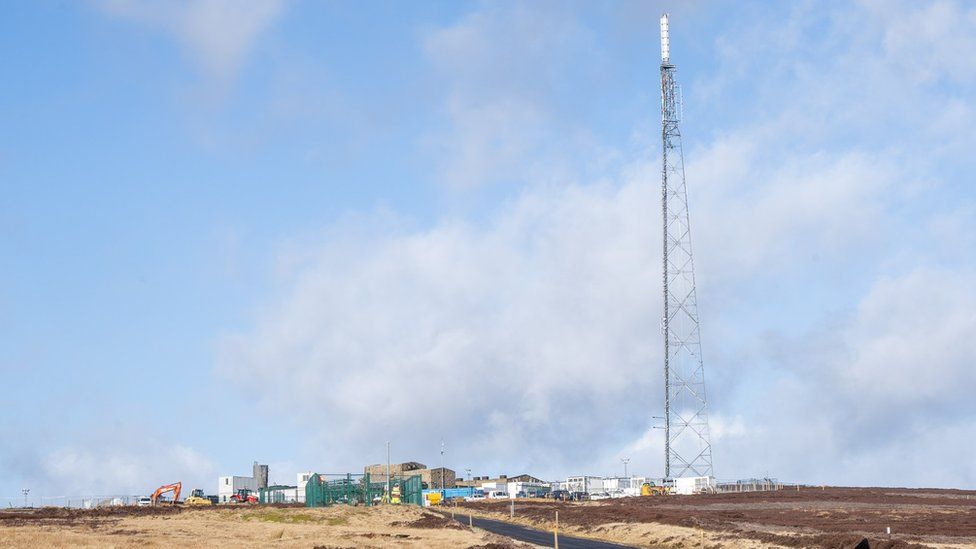 A new interim TV mast to replace the fire damaged Bilsdale transmitter is set to be activated on Wednesday.
The 252ft (80m) mast at Bilsdale will benefit more than 100,000 homes in North Yorkshire, County Durham and the Tees Valley, operator Arqiva said.
It will be "more reliable and robust in bad weather" than current stand-in masts, Arqiva added.
Construction of a permanent 1,030ft (314m) replacement tower is due to begin after plans were approved.
Hundreds of thousands of homes lost reception when the previous Bilsdale transmitter was destroyed by a fire in August.
A number of temporary masts and relays were set up in the following weeks and months restoring service to some 98%, Arqiva said.
The latest mast will mean improved TV signals for many households and be less affected by bad weather.
Arqiva's chief executive officer, Paul Donovan, said: "The switchover to this new mast is another important step in the huge project to restore full TV services to people across the region.
"Our teams have worked extremely hard in challenging conditions to complete it.
"We're sorry for the disruption which the fire has caused, and we remain fully committed to providing help and advice to those who are affected, and especially the most vulnerable members of our communities."
Arqiva said the terrain of the North York Moors, where the new mast is located, means that when the switchover takes place a "signal shadow" will be created where the line of sight is interrupted.
About 1,250 homes which rely on Freeview services, mainly in east County Durham, are likely to lose their TV signal as a result of the switchover the firm warned, although homes which use Sky, Virgin and Freesat services will not be affected.
Those who do experience disruption can request an engineer to repoint TV aerials free of charge, while Arqiva is also offering the following advice:
Retune the TV
If the TV does not return automatically contact Arqiva online or call 0800 121 4828.
If some channels are lost after the retune, contact Arqiva as above
Related Internet Links
The BBC is not responsible for the content of external sites.