Bilsdale transmitter fire: TV and radio disrupted in 1m homes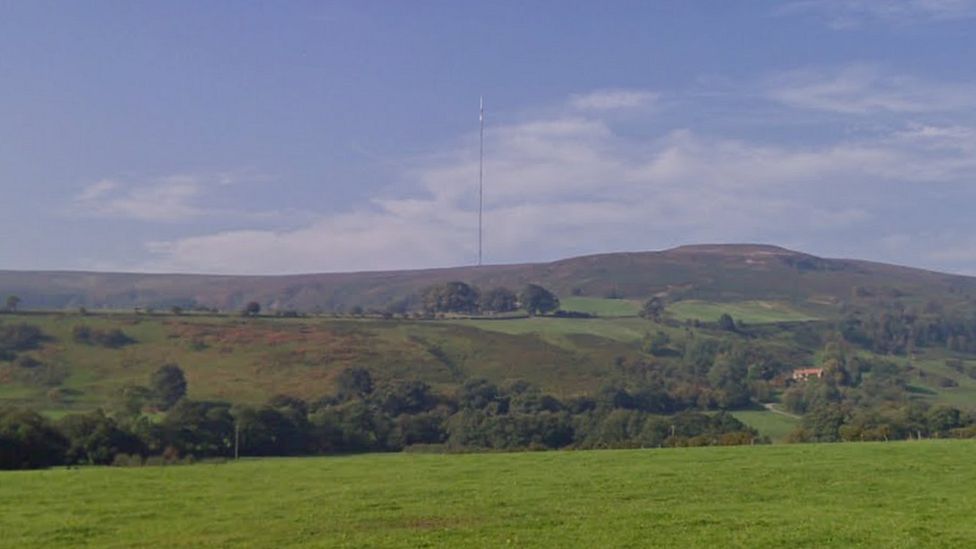 A TV transmitter fire that disrupted broadcasts for more than a million people has been put out but there are concerns about the mast's stability.
The blaze at the 315 metres (1,032ft) tall Bilsdale mast on the North York Moors affected Freeview and FM radio.
North Yorkshire Fire and Rescue Service said the mast fire had led to "concerns about its structural integrity".
Walker Ron Needham, 71, said he had seen "a huge black cloud of smoke come from the buildings at the bottom".
He had been hiking on the moor with his wife Sue, 69, when they stopped for lunch at the base of the mast.
They noticed "nothing untoward at that stage" but, after carrying on their walk for about a mile and a half, turned to look at the mast and noticed "smoke coming out of the top, a bit like a chimney", Mr Needham said.
A 300 metre (984ft) exclusion zone is in place around the tower.
Eight pumps and crews from across the region were sent to tackle the blaze at 13:19 BST after a call from an engineer working at the transmitter north of Helmsley.
In a statement North Yorkshire Fire and Rescue Service said firefighters had "worked to control the fire in difficult circumstances and extinguished a fire in a single-storey stone building and transmitter mast".
It added: "Only one building in a complex of four was affected and there are concerns about the structural integrity of the mast.
"A 300 metre exclusion zone has been put in place around the mast."
The fire service said it would be working on Wednesday with Arqiva, the site operators, "to bring the incident to a safe conclusion".
The tower was built in 1969 and provides coverage for homes across northern England, from Tadcaster round to Leyburn, then up to Seaham and most of the way down the coast to Filey.
BBC TV for Teesside, North Yorkshire and County Durham is available on iPlayer. Radio stations are available on BBC Sounds.
Related Internet Links
The BBC is not responsible for the content of external sites.