Freeports: Government 'made catastrophic blunder' in trade deals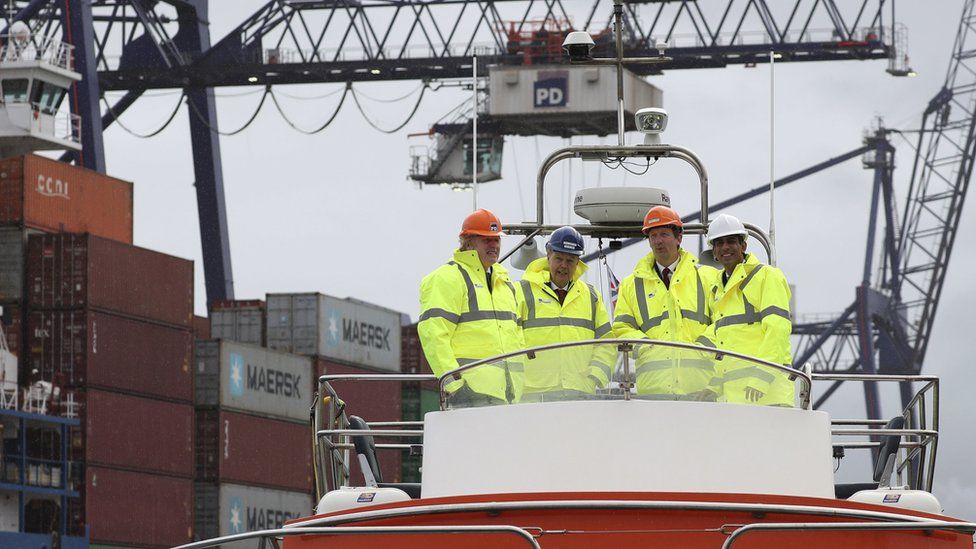 Labour has accused the government of a "catastrophic blunder" which means manufacturers based in freeports could miss out on exports to key markets.
It claims firms would face tariffs if exporting to a series of countries which the UK has signed post-Brexit trade deals with.
Eight of the special economic zones - offering tax breaks and lower tariffs - were announced in March.
The government said businesses would not be shut out of those markets.
Freeports are usually located around shipping ports, or airports, and goods that arrive into them from abroad are exempt from normal tariffs.
These are not paid if the goods are sent overseas, only if they are moved elsewhere in the UK.
Labour said exports to 23 countries the UK had signed agreements to roll over deals the nations had with the European Union were affected.
They claimed trade ministers had failed to remove wide-ranging "duty exemption prohibitions" which state businesses which have not paid import duties cannot benefit from reduced tariffs on exports.
Exports to the countries concerned - which include Canada, Singapore and Mexico - were worth £35.5bn in 2019, the party said.
The eight freeports for England will be in:
East Midlands Airport
Felixstowe & Harwich
Humber
Liverpool City Region
Plymouth and South Devon
Solent
Teesside
Thames
Shadow international trade secretary Emily Thornberry said: "Last November, when the Treasury invited applications for its new freeports scheme, the small print warned potential bidders of the prohibition clauses contained in several continuity trade agreements the Department of Trade had signed in the previous two years.
"But, despite that warning, [International Trade Secretary] Liz Truss went on to sign trade agreements with 10 more countries containing the same clauses.
"On the surface of it, this looks like a catastrophic blunder by a minister stuck in her silo, and, as a result, I fear that manufacturers in towns, cities and regions across our country who have succeeded in bidding for freeport status risk missing out on access to key markets."
A government spokesman said: "There is no error and it is not uncommon for free trade agreements to have these provisions.
"Businesses will not be shut out of markets we have negotiated free trade deals with.
"They will benefit from both our free trade programme, and also from freeports, which provide tax breaks, simpler planning restrictions and cheaper imports."
Where the provisions apply, firms will be able to opt for either the refund of import duty when goods are re-exported, or from the preferential rates under the free trade agreement.
Related Internet Links
The BBC is not responsible for the content of external sites.