George Reynolds: Ex-Darlington FC chairman with criminal past dies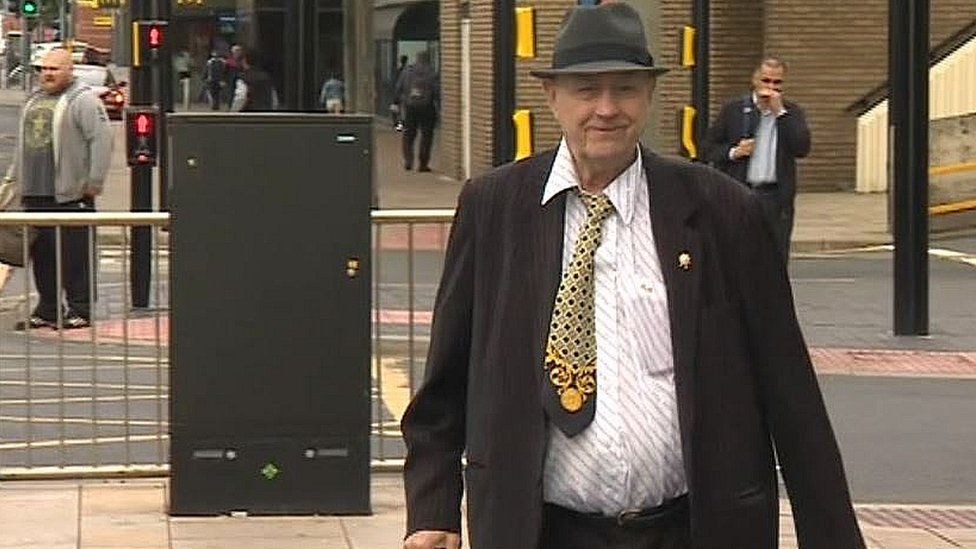 The former safe-breaker turned football club chairman George Reynolds has died.
Sunderland-born Mr Reynolds, who was in his 80s, took over Darlington FC in 1999 and built a 25,000-seat stadium on the edge of the town.
However, with average attendances of just 1,500, the club was never able to fill the venue and was eventually placed in administration.
Mr Reynolds left the Quakers in 2004 and the following year was sentenced to three years in jail for tax avoidance.
When he took over Darlington, Mr Reynolds said he had ambitions of getting them promoted to the Premier League but the club were unable to climb the league pyramid.
On another occasion, while playing up to his criminal past, he attended a photoshoot at the club wearing a mock prison uniform with a fake ball and chain tied around his ankle.
In a BBC documentary broadcast in the early 2000s, he claimed his personal wealth was in excess of £275m and addressed his controversial reputation by saying he would confront critics at their homes.
"People are alright in groups until you knock on their front doors at 20 past two in the morning," he said.
"They don't like that. Nobody has a go at me. I find out where they live and I go and knock on their door."
Recalling his poverty-stricken upbringing in the east end of Sunderland, he said his first conviction was for smuggling watches from Rotterdam.
He later turned to safe-breaking after learning how to handle explosives in the coal mines of the North East and blew-up vaults in office and shop raids.
In his 2005 court case, the jury heard he ranked at 112 in the Sunday Times Rich List of 2000 having set up Direct Worktops to make kitchens following spells in and out of prison for safe-breaking and burglary.
Responding to Mr Reynolds' death, former Sunderland footballer Micky Horswill said: "People will think of George in different ways.
"I know he could be a swine when he wanted to be but he also had a heart of gold underneath. I would never hear anybody speak a bad word of him for what he did for me and my family."
Related Internet Links
The BBC is not responsible for the content of external sites.