Cleveland Police: Officer's mother-in-law 'threw out' child sex files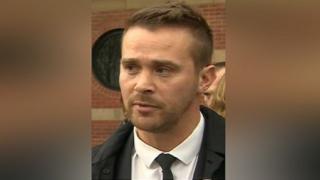 Details of child sex victims ended up in a skip after a police sergeant's mother-in-law threw them out by accident, a hearing has been told.
Martin Skirving-Chehab, from Cleveland Police, took two bags of material, relating to 55 offenders, to his Hartlepool home in June 2018.
A disciplinary panel heard "a complete fluke" saw them put in a recycling bin outside his house.
The 42-year-old admits misconduct but denies gross misconduct.
Days later the documents were found by a dog walker who contacted The Sun newspaper.
Mr Skirving-Chehab, who has been an officer for 15 years, was asked to remove the carrier bags from the Sex Offenders Management Unit (Somu) and he took them back to his home.
He kept them unsecured beside his desk at home, before they were put in the kitchen.
The officer received a WhatsApp message from his pregnant wife to say her mother had put the documents in the recycling bin outside.
The hearing, at the Grand Hotel, Hartlepool, has heard his work book then ended up in a skip outside his home, which was being renovated.
Joan Smith, representing the force, said: "One can only imagine the potential risk to property and life if the information fell into the hands of vigilantes."
Ms Smith told the hearing the experienced officer was well aware of the sensitive nature of the documents he handled.
The force's reputation had suffered as a consequence of the confidential material ending up in a skip, she said.
Cleveland Police contacted all the offenders mentioned in the documents and seven have made a formal complaint, and the force had to step in to answer concerns about their safety following the security breach, she said.
The officer told the hearing he hoped others could learn from his mistakes, and that he had talked to the data protection manager about putting together training for colleagues.
He said: "I wanted to try to do something positive with this if that was at all possible, otherwise it would have just crushed me completely.
"I never in a million years would have expected this to happen.
"If I can stop this happening to anybody else, I'll take some comfort."
The hearing continues.