Taylor Williams death 'could have been foreseen'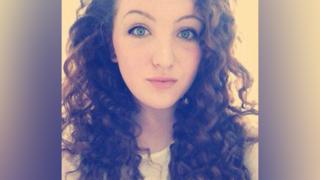 A secure children's home could have "foreseen and possibly prevented" a teenager's death, a watchdog has found.
Taylor Williams was found unconscious and with a ligature around her neck by staff at Aycliffe Secure Centre in County Durham in February 2017.
The 17-year-old from Worcester died in hospital, and the coroner has now ruled a verdict of suicide.
The Prisons and Probation Ombudsman (PPO) said the regime of well-being checks on her was "clearly inadequate".
Durham County Council said it had made a number of changes to policies and procedures.
The inquest at Crook Coroner's Court heard that Taylor, who was under the care of Worcester County Council, had a history of self-harming and suicide attempts in the years leading up to her death.
On the day she died she was being checked every five minutes by staff - the highest level of supervision possible on a routine basis.
At the end of the seven-day hearing, the coroner recorded a verdict of suicide.
The PPO's investigation into her death found the centre's suicide and self-harm measures lacked a "detailed risk assessment process and were not sufficiently responsive to changes in [her] risk".
It said the rationale behind risk management plans was sometimes "difficult to understand" and while the well-being checking regime was "well-intentioned", it was "clearly inadequate".
Elizabeth Moody, Acting PPO when the investigation took place, said: "Unfortunately, I think [Taylor's] death could have been foreseen and, possibly, prevented.
"Aycliffe need to introduce a more comprehensive, multi-disciplinary suicide and self-harm assessment and management system for those young people judged to be at risk to themselves."
'Build trust'
Margaret Whellans, Durham County Council's corporate director for children and young people's services, said it would consider the inquest's findings before deciding whether was a need for further action.
"We strive to make the centre the safest possible environment while also considering the needs to build trust with a young person and respect their privacy and dignity," she said.
"We lead a multi-agency working group which devised an action plan in response to the PPO's recommendations, resulting in a number of changes to policies and procedures at Aycliffe."