Self-harming teen Taylor Williams 'was found unconscious'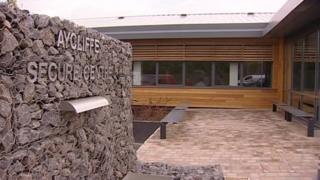 A teenager with a history of self-harming was found unconscious at her secure home before being declared dead, an ongoing jury inquest has heard.
Taylor Williams, of Worcester, had self-harmed "for some time" before moving to the Aycliffe Secure Centre in County Durham.
The 17-year-old was moved to the facility following "concerns for her safety", coroner Tanyka Rawden said.
Crook Civic Centre heard she was found in her room on 18 February 2017.
She had been at the centre in Newton Aycliffe, which provides support for vulnerable children, since July 2016 but her issues continued, the jury was told.
Having told staff at about 13:00 GMT she was going to her room because she "felt tired", she was found unconscious almost four hours later with a ligature around her neck.
Workers called 999 and she was taken to Middlesbrough's James Cook University Hospital where she was declared dead.
Ms Rawden told the court holding the inquest in front of a jury was necessary as she died in secure accommodation.
Jurors heard the teenager previously spent time in short-term foster care as well as other care centres.
They included Brook Farm Residential Children's Home, in Redditch, Worcestershire, where from September 2014 she "made several attempts to self harm", according to Maria White, assistant director of safeguarding services at Worcestershire County Council.
Ms Williams was then transferred to Highview, a residential children's centre in Cumnock, East Ayrshire, where she "indicated that she was going to take her own life", the inquest was told.
In June 2016 she went missing and was found on a railway line.
Ms White said: "We would want to place as local as we can but that's not always possible."
The inquest, which is scheduled to run until July 12, continues.