Hannah Hauxwell quilt bought by Bowes Museum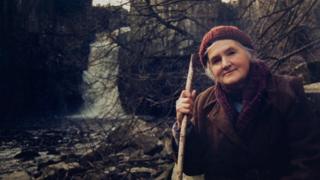 A quilt which belonged to farmer Hannah Hauxwell has been bought at auction by her local museum.
The quilt, made by Ms Hauxwell's grandmother Elizabeth Bayles, will be added to the North Country quilt collection at the Bowes Museum in Barnard Castle.
Ms Hauxwell found fame in the 1970s when a TV documentary followed her tough life as a farmer at Low Birk Hatt Farm in Baldersdale.
She died in January 2018 aged 91.
The quilt was one of 22 lots, which included 13 quilts, from Ms Hauxwell's estate which were sold at auction by Tennants Auctioneers.
Joanna Hashagen, the museum's curator of fashion and textiles, said: "This particular quilt is very important, both artistically and historically.
"The Bowes Museum does not have an example like this.
"I am delighted that private donations have meant that we can keep one of these quilts that belonged to Hannah Hauxwell in Teesdale."
Ms Hauxwell appeared in the 1972 Yorkshire TV documentary Too Long a Winter which covered her life without electricity or running water at the farm.
She moved to Cotherstone in 1988.
Her executors have also donated a large framed photograph of Ms Hauxwell standing in front of High Force to the museum.
It is signed and dated by the cameraman who filmed her for Yorkshire TV.