Hartlepool Headland sea defence problem 'disappointing'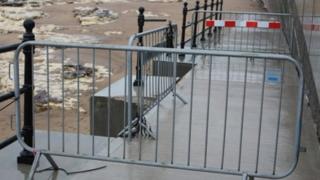 A beach ramp has been closed off after coping stones installed as part of a £9.5m sea defence scheme became dislodged.
They were installed as part of the recently-completed scheme at Hartlepool Headland, which began in 2015.
Hartlepool Borough Council said engineers were working to find out how it happened.
One councillor said it was "incredibly disappointing" in view of the "significant amount of money spent".
The Local Democracy Reporting Service reported that Shane Moore added: "You'd expect a few teething problems but when blocks are falling questions have got to be asked.
"We do need to look at the outcome of this investigation and make sure it's done correctly."
A council spokesman said the ramp would remain closed with no public access to the beach "until investigations are complete".
"Engineers are working closely with the contractor and relevant suppliers to determine why the coping stones on the new ramp opposite Vane Street have become dislodged.
"We apologise for any inconvenience this might cause and are working hard to identify a solution."