Deerbolt YOI officer had tryst with inmate in cupboard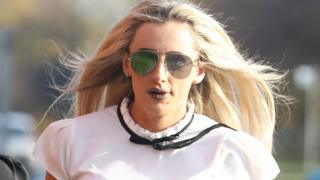 A young offender institution (YOI) officer had a "tryst" in a cupboard with an inmate, a court has heard.
Stacey Sutherland's relationship with Leon Shooter was revealed when an officer found a love letter in her bag.
Sutherland, 27, and Shooter, 20, kissed and cuddled in a cleaning cupboard at Deerbolt YOI in Barnard Castle, Teesside Crown Court heard.
Sutherland, who admitted misconduct in a public office, was sentenced to eight months in jail suspended for 18 months.
The court heard Sutherland, of Marshall Street, Barnard Castle, looked for solace with convicted blackmailer Shooter after her marriage to a fellow prison officer failed and a subsequent relationship with an older prison guard collapsed.
Latest news from across the North East
She became an officer at Deerbolt in December 2017 and the relationship was discovered in April, prosecutor Rachel Masters said.
Two 10-minute prison phone calls Shooter had made to Sutherland using a pseudonym for her were discovered, and more love letters were also found at her home.
In one letter, Shooter wrote that he liked her being nice to him but also enjoyed it when she was "aggressive", the court heard.
'Occasional tryst'
In the first phone call, which had been recorded, Shooter said they would spend their lives together when he was released.
There was sexual content in the letters, but their relationship did not go further than the activity in a cupboard, the court was told.
It started when Shooter, a cleaner on the wing where she worked, told Sutherland he would miss her when she was on annual leave, and they kissed in the cupboard.
Rebecca Suttle, defending Sutherland, said: "Her career and her reputation are in tatters.
"While I do not seek to minimise the offending, it does not extend to more than the occasional tryst in a cleaning cupboard."
The mother-of-one, who now works as a waitress, was also ordered to carry out 150 hours of unpaid work.