Ben Houchen agrees £35m Durham Tees Valley Airport purchase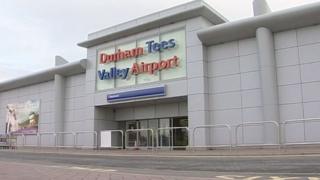 The mayor of Tees Valley says he has agreed a deal to buy Durham Tees Valley Airport for £35m.
Conservative Ben Houchen made buying the airport near Yarm his top priority when he was elected in May 2017.
He said having a thriving international airport was the "missing piece of the jigsaw" for improving business in the area.
Redcar Council's Labour leader Sue Jeffrey said more detail was needed about who would operate the airport.
Click here for more North East news
She said the airport was losing £2.5m a year and due diligence was needed to check this was the "right thing to do" with public money.
Mr Houchen said the money would come from the budget allocated to him by government and would have "zero impact" on local Council Tax bills.
He also said it would have no effect on local authority budgets, public services and businesses.
Mr Houchen said it would be "an airport owned by the people for the people".
The Tees Valley mayor also said he would spend £5m on land next to airport which is also owned by the airport current owners Peel Group and has been approved for 350 new homes.
"For as long as I am mayor, houses will not be built at this airport," Mr Houchen said.
Labour Middlesbrough MP Andy Macdonald said: "[Forty million pounds] to buy an asset that loses £2.5m a year, is that a good use of public money?
"That to me doesn't sound like a good deal.
"I'll wait to see the evidence before I can declare myself satisfied that this anywhere near represents good value for the taxpayer."
Mr Houchen said a full plan would be published in the future.