Heathrow Airport wheelchair failure 'a disgrace'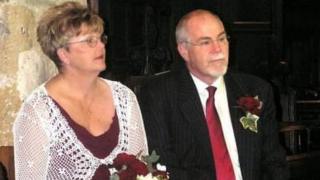 A man with disabilities collapsed at Heathrow Airport while waiting for a booked wheelchair that failed to turn up, his family have said.
Antony Taylor, 61, from Northallerton, had arrived on a British Airways flight from Spain after attending a conference on disabled access to football grounds.
But after standing for 30 minutes he collapsed and was taken to hospital, his daughter Hannah said.
British Airways and Heathrow Airport both said they were investigating.
Ms Taylor, from Darlington, said she received a phone call from her "tearful and distraught" mother Maureen, 61, after her parents arrived back in the UK from Bilbao on Sunday.
The couple had attended a conference organised by the Centre for Access in Football in Europe (Cafe).
Mr Taylor has a long-standing spinal problem and associated mobility issues.
Hannah Taylor said: "Mum and Dad had pre-booked a wheelchair so it would be waiting when they got to Heathrow.
"But it wasn't there and my dad was left standing in line while they tried to get another one.
"After half an hour he collapsed and had to be taken by ambulance to hospital.
"It's disgraceful to think that this can happen. We're all so upset."
You may also be interested in:
Athlete delighted at Luton wheelchair move
Airport turns away wheelchair user
Four airports failing disabled passengers
Mr Taylor has now been discharged from hospital and the couple were due to fly back to Newcastle.
A spokeswoman for British Airways said: "The safety and welfare of our customers is always our priority.
We are urgently investigating this incident with Omniserve who provide this service at Heathrow.
"We rebooked our customers onto a later flight, and provided them with overnight accommodation.
"More than a million customers with disabilities choose to fly with us every year and we take their needs extremely seriously."
A spokesperson for Heathrow Airport said: "We apologise to Mr Taylor for the distress he experienced while he waited for a wheelchair.
"Our team has been in touch with him and we are looking into the particular circumstances of his journey as a matter of urgency."
Earlier this year BBC journalist Frank Gardner criticised Heathrow Airport for how it treats disabled passengers after being kept nearly two hours on a plane after staff said they had lost his wheelchair.
He has used a wheelchair since being shot by militants while reporting in Saudi Arabia in 2004.