Cannabis farm 'worth £300,000' found in Loftus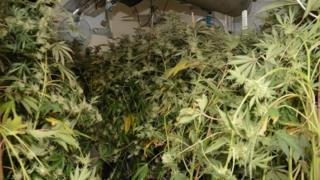 A cannabis farm consisting of more than 500 plants with a street value of £300,000 has been found.
Cleveland Police said an officer discovered the farm in a property on West Road in Loftus.
Officers are trying to find the people responsible for growing the plants, a spokeswoman said.
Police have also issued a list of "tell-tale signs which often give cannabis farms away" for which members of the public "should be vigilant".
These include:
Windows sealed and covered in a property or the curtains permanently closed
Bright lights on 24 hours a day or at unusual times
A property producing a lot of heat - birds often gather on the roof of a warm property in cold weather
Frequent and varied visitors to a property, often at unusual times
Gardening equipment being taken into a property, such as plant pots, fertiliser, fans and industrial lighting
Big electricity bills
A strong smell of cannabis constantly in the street