County Durham pensioner pens 'popped my clogs' death notice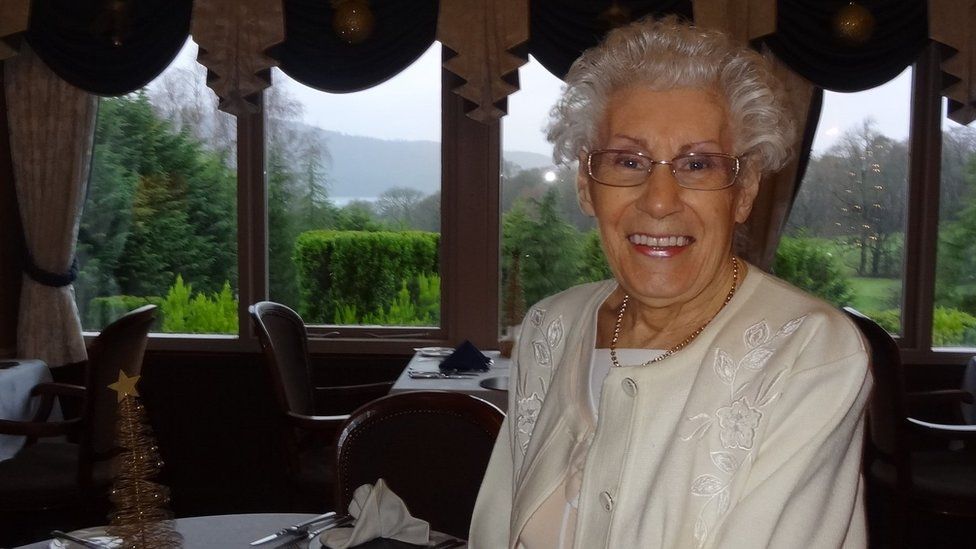 A woman wrote her own local newspaper death notice to tell family and friends she had "popped her clogs".
In the notice in the Northern Echo on 1 November, published after her death, 91-year-old Jean Hedley from County Durham urged people not to be sad.
She wrote she had "gone to be" with her husband Ted, who died in 1993, and wanted there to be smiles not tears at her "send off".
Her niece Pam Boland said it was typical of her "wonderful aunt".
Paying tribute to her mother's sister, she described her as as "a second mum", who was well loved in the local community of Ferryhill.
Ms Boland said: "She knew how painful it would be when she went - she was the last one standing after my mum died - and wanted to take the pain away.
"She said she didn't want death to be seen as a 'morbid or sorrowful thing', but wanted people to remember her as if she was still in the room."
The notice read: "Jean Hedley would like to say to all her loving family and friends that she has finally POPPED HER CLOGS and gone to be with Ted, her loving late husband who she has missed terribly for 25 years.
"Don't be sad, she was ready, it was time to go. There are to be no flowers, no tears, no sad poems or hymns.
"Only smiles, happy memories and pretty colours at her send off in Durham Crematorium.
"Your love, support and kindness have been wonderful and I'll miss you all. God bless, Jean."
Ms Boland said: "The note is like a warm, cuddly blanket around me.
"And what is happening is what she wanted - even though she's popped off she's still giving us nice memories and smiles."