Ensus Wilton biofuel production 'paused' for fourth time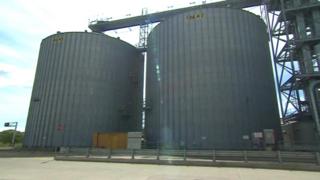 Production at a £300m chemical plant which makes biofuel for petrol is to be paused for the fourth time.
The Ensus bioethanol refinery in Wilton on Teesside has been repeatedly mothballed and reopened since 2011.
Parent company CropEnergies said processing would halt in late November due to a fall in the global price of bioethanol.
The BBC understands the 100 staff will be kept on during the pause in production, as in previous shutdowns.
The company said the duration of the break would depend on market conditions.
Stop-start
The plant was mothballed in 2011, two years after opening, due to US competition and dwindling demand.
Production restarted in October 2012 but paused again in April 2013 because of rising energy costs and a poor harvest.
German firm CropEnergies AG took over the facility in July 2013 and restarted production the following October.
It stopped again at the beginning of 2015 and restarted in 2016.
The plant converts wheat into fuel-grade alcohol, animal feed and carbon dioxide for the beer and fizzy drinks industry.