Ed Farmer inquest: Student died after 'initiation-style' event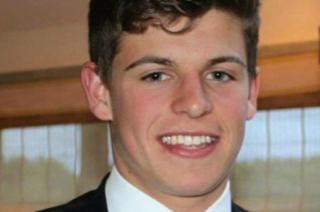 A university student died after taking part in an "initiation-style" bar crawl, an inquest has heard.
Newcastle University student Ed Farmer, 20, died in hospital in December 2016.
A round of 100 triple vodkas had been ordered at one of the pubs on the bar crawl, the hearing at Newcastle Coroner's Court was told.
Mr Farmer, of Leicester, was taken to the Royal Victoria Infirmary in the early hours after being found unconscious.
A post-mortem examination found he had five times the legal drink-drive limit of alcohol in his blood.
Night out
The inquest heard excess alcohol caused cardiac arrest which led to brain damage and his death.
James Carr, who was the chairman of the university's Agricultural Society and a second-year student at the time, told the inquest the night out was staged every year to welcome new arrivals.
That was despite "initiation-style" ceremonies having been banned by the university, he said.
CCTV footage played at the inquest showed a large group of students visiting a number of bars.
At one point Mr Farmer was seen falling over before being held up by two other students and then carried by his arms and legs.
'Very grave'
After ending up at Mr Carr's house in the Jesmond area of the city, a third-year student shaved Mr Farmer's head.
Mr Carr told the inquest he was woken by another student at around 04:30 GMT who told him Mr Farmer needed to be taken to hospital.
"I was panicking if I'm honest, I was in a state of shock," Mr Carr said.
Dr Reuben Sahara, head of the royal infirmary's Emergency Medicine Department, told the inquest earlier treatment "may" have saved Mr Farmer.
Dr Sahara said there was a spectrum of alcohol poisoning and that cardiac arrest was at the "very end of that scale".
He said: "We knew that the situation was very grave from the outset. I would agree that had he been in hospital prior to cardiac arrest then I would expect the patient to survive."
The hearing is expected to last for four days.