Jail for Middlesbrough lottery-winner scammer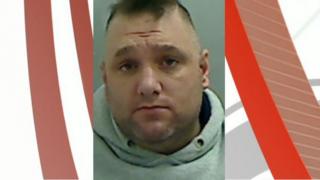 A man who was part of a gang that swindled a vulnerable woman who had won £1m on the lottery has been jailed.
Jacob Tindall fled to Spain after pleading guilty to conspiracy to steal.
The 32-year-old, of Clough Close, Middlesbrough, was one of a gang of four that stole £75,000 from the woman, who had won the money in 2013.
After being extradited from Spain, he has now been sentenced to three years by a judge at Teesside Crown Court.
Two other members of the gang - Aaron Harvey and Lee Khan - were jailed in April, and a third, James Tindall, was sentenced in June.
The gang befriended the woman, with one even pretending to be her boyfriend to get close enough to steal her bank card and personal identification number.
They opened credit cards, and transferred money into a number of betting websites, as well as a share dealing account.
'Closure'
Det Con Rachel Graham from Cleveland Police said the "callous" gang targeted the victim "specifically because of her vulnerability and the fact she had won a substantial amount of money".
She added: "Today's sentence ... demonstrates that police and the courts take an extremely serious view of anyone committing fraud.
"We will not tolerate this; even if we have to travel to bring you back from abroad, you will be caught and you will be brought to justice."
Speaking after the sentencing, the victim said: "They took my life away with what they did.
"Today is just closure of the bad times of my life, justice has been done."