'Underweight' apricots M&S supplier fined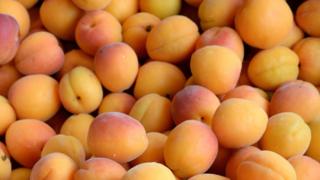 A company has been fined £1,000 for selling a jar containing less than the correct weight of apricots.
It follows a check by Redcar and Cleveland trading standards officers on a 400g jar of Mariangela Prunotto brand "Apricot in Syrup", at the Marks and Spencer store in Guisborough.
The fruit was found to be 1.9g short - about half the weight of a 1p coin.
Magistrates convicted Baselica Ltd, trading as Fine Italian Foods, of two weights and measures breaches.
UK weights and measures regulations allow for a "tolerable negative error" on pre-packed food.
This would mean a drained weight of 376g would still have been legal, but the apricots weighing 374.1g were outside the legal margin for error.
Baselica, which is based in Sevenoaks, Kent, said the firm accepted the decision of the court.
A spokesman added: "Each jar of this product contains 12-15 whole apricots depending on the size of the fruit that Prunotto harvest from their trees, so a single fruit makes a huge difference to the final pack weight - approximately 30g, which is 15 times the underweight we have been fined for."
A Redcar and Cleveland Council spokesman said: "The public has the right to know they are buying what is advertised and our dedicated trading standards officers will do all they can to ensure the customer is never short-changed."