Closure-threatened Darlington Library saved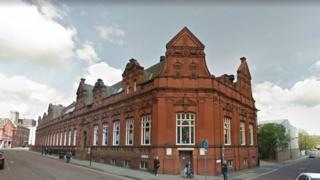 Plans to shut a town centre library and relocate it to a leisure centre have been scrapped.
Councillors in Darlington voted in 2016 to shut the Crown Street library and move the service to the Dolphin Leisure Centre to save £300,000 per year.
The Labour-run authority also overcame a High Court challenge to the closure brought by campaigners.
However, the council's cabinet has now voted to reverse the decision and save the library.
Earlier this month newly-elected leader Stephen Harker said he was against the closure as finding an alternative use for the building would be difficult.
A council spokesman said: "Members agreed with the leader's recommendation to overturn the earlier decision to move the service, meaning it will stay where it is.
"There will be a consultation on how the library will look in the future, with a further report due before cabinet early next year."
Mr Harker said he now wanted to invest £2m modernising Crown Street to attract retailers and shoppers.
Earlier this year campaigners mounted a legal challenge against the council's consultation process over the future of the Grade II-listed library.
But in June the High Court ruled the council's decision to close the site should stand.
Darlington has recently lost its long-established Marks & Spencer store and Mr Harker said the town's High Street was facing tough times.
Mr Harker said the council's "slightly improved finances" over the past 12 months meant keeping the library was an option.