Ferryhill Mayor Richard Smith steps down over 'sin' posts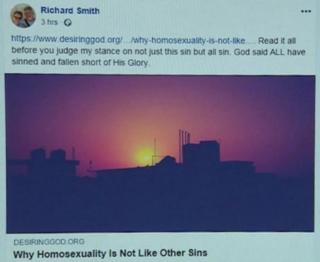 A mayor who posted criticism of homosexuality, transgender people and Muslims on Facebook is to step down after facing "abuse and intimidation".
Richard Smith faced calls to resign as Ferryhill's Mayor after his posts were highlighted by a local drag artist.
Mr Smith said the posts were personal views unconnected to his mayoral role and it was "absolutely not" his intention to cause offence.
But, after "considerable deliberation" he is to relinquish the role.
Mr Smith, who is also a pastor at the Emmanuel Christian Fellowship in the town, said he had to pull out of a flag-raising event for military personnel after threats of disruption.
News of his posts emerged last month, with one of the comments he shared calling homosexuality "a sin".
Another read "transgender ideology... produced large-scale child abuse", and a third said "people aren't allowed to speak the truth anymore" about gender issues.
'Outrageously twisted'
Local drag artist, Tess Tickle, said: "Everybody's entitled to their own views and beliefs. However, sharing things in a public domain in a position of power... it's not acceptable."
Mr Smith said in a statement: "Over recent weeks I have been subjected to unprecedented levels of adverse publicity.
"Whilst the instigators are very much in the minority, as evidenced by the widespread messages of support I have received, I realise that my ability to serve the people of Ferryhill in the manner I would have wished will always be subject to disruption and intimidation.
"To be denied the opportunity to hold personal views was never my expectation when I undertook the role of mayor, and it is a matter of sincere regret to me that those personal views have been so tragically and outrageously twisted and reported on in order to discredit both myself and my faith."