Trust wins Roseberry Park hospital PFI contract battle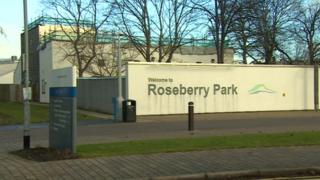 A health trust has won a battle to terminate its contract with a PFI provider after serious defects were found in a hospital it built.
Roseberry Park in Middlesbrough opened in 2011 but has had problems with its roof, plumbing and fire safety system.
Tees, Esk and Wear Valley NHS Trust wanted to end the £321m contract with Three Valleys Healthcare Limited (TVH), but it brought a legal challenge.
A specialist division of the High Court has now ruled in the trust's favour.
Handing down the judgement, the Technology and Construction Court also awarded costs to the trust.
TVH, which has gone into administration, has been approached for comment.
The ruling was welcomed by Middlesbrough MP Andy McDonald, who voiced concern over the hospital, calling it "substandard" and with "fundamental construction problems".
He said: "It was clear to me that in light of those major defects, the PFI contract was null and void given that the Private Finance Initiative organisation Three Valleys Healthcare had failed in its basic contractual obligation to deliver a fully functioning hospital.
"Much of the hospital will have to rebuilt. The process of decanting patients to other facilities to deal with these defects has been immensely disruptive for patients and their families alike."