Wynyard 'white elephant' bridge plan 'a waste of money'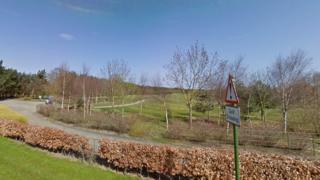 Multimillion-pound plans for a bridge have been criticised as a "waste of money".
Stockton Council wants to spend £2.2m on a bridge over the A689 near Wynyard to allow access to Billingham and link to a cycle route.
But Diane Atkins, from Wynyard Residents Association, said the bridge was an "eyesore".
Council urban design manager Peter Shovlin said it would be "functional and visually acceptable".
'Fairly tortuous'
The bridge was a "white elephant", which the council "persist in maintaining against everyone's wishes", Ms Atkins said.
"Our residents are walking up and down the side of the A689 to access services in Billingham and to go on the cycle route is fairly tortuous," she said.
"Nobody will walk all that way."
A separate £3.5m plan to build a new bridge from Eaglescliffe to Ingleby Barwick has also been criticised.
Egglescliffe and Eaglescliffe Parish Council chairwoman Maureen Rigg said: "The thought of it becoming some sort of community cycleway where there is absolutely no option of widening the road or providing a cycle track beside the roads fill us with concern - to put it mildly."
Council principal transport officer Jonathan Kibble said studies had supported the scheme and the council was confident of funding from the Tees Valley Combined Authority (TVCA).
Correction 4 July 2018: An earlier version of this story quoted Diane Atkins of the Wynyard Residents Association as referring to an existing bridge. We've since accepted her point that she was speaking about a proposed bridge and have amended the article to make this clear.