Redcar's art deco Regent Cinema to remain closed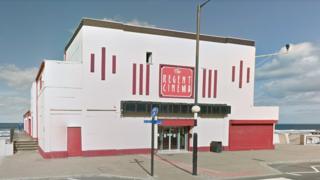 An art deco seafront cinema will remain closed for the "foreseeable future" after a survey revealed " significant structural problems".
The Regent Cinema in Redcar closed in April due to structural issues.
A survey revealed issues with the roof, floor and walls of the 1920s building including "major cracks" and "significant weather damage".
The cinema's manager said: "The challenge we face is certainly greater than we initially expected."
Surveyors found that an extension exposed to the sea appears to be pulling away from the main cinema hall, there are cracks on exterior and interior walls, and there is damage to the roof.
Asbestos risk
They recommended a set of external stairs be removed for health and safety reasons.
There is also "almost certainly" asbestos in the building and a specialist survey has begun.
Manager Neil Bates said he was "disappointed" both "for my staff and the town".
"The age and location of the building on the seafront as well as the way it has been structurally added to over the years leads to deterioration issues that most similar buildings simply don't have to contend with," he said.
Redcar and Cleveland councillor Carl Quartermain, cabinet member for Culture, Tourism and Communications, used to work at the Regent in the 1980s.
He said the survey "revealed the structure was worse than originally thought and to that end, unsafe".
A more in-depth survey "to understand the full extent of the work required" is under way and other solutions will be investigated to try and reopen a cinema in the town.
He added: "Aside from the concerns around the building, not having our cinema offer coming into the summer season is hugely frustrating, with families having to contemplate paying high ticket prices outside the area or not going to a cinema at all."