Restaurant murder-accused 'only meant to scare man'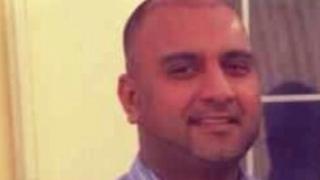 A kitchen worker charged with murdering a restaurant's meat supplier following a row told police he had only intended to "scare" the man.
Efreeqi Siddig, 21, is accused of fatally stabbing Mazhar Ali in Manjaros in Middlesbrough on Christmas Eve.
Teesside Crown Court heard a transcript of a police interview in which Mr Siddig said he did not realise he had knifed the 41-year-old in the abdomen until he saw blood.
Mr Siddig denies murder.
The trial heard Mr Ali, who supplied chicken breasts to the restaurant, had been aware Mr Siddig regularly complained about the quality of the meat.
CCTV footage seen by the jury showed him punching, kicking and head-butting Mr Siddig.
During the police interview, the defendant said he had feared being attacked again when Mr Ali walked past him the following day.
He told officers he picked up a knife and turned towards Mr Ali but did not intend to cause him serious harm.
Mr Ali was taken to Middlesbrough's James Cook University Hospital but died the following day.
The trial continues.