Lottery cash for endangered County Durham wetland areas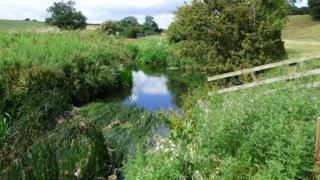 A project to preserve wetland areas of County Durham has been given a multi million-pound lottery boost.
The Bright Water Landscape Partnership will use a £2.6m Heritage Lottery grant to retain wildlife habitats close to the River Skerne.
The 77 sq mile (200 Sq km) project area takes in riverside sites near Sedgefield, Bishop Middleham, Heighington, Barmpton and Darlington.
Cash will also enhance historic sites along the route of the Skerne.
The landscape was formerly dominated by wetlands, but many have been lost over the past 200 years.
'Enormous potential'
The project, backed by the Durham Wildlife Trust, aims to conserve remaining natural habitats and protect important industrial and agricultural sites.
Trust director Jim Cokill said: "The River Skerne catchment is already an important area for wildlife and historic sites, but there is enormous potential to further restore and reveal that heritage.
"Bright Water is an opportunity to put this part of the North East on the map."
Ivor Crowther, head of HLF North East, said: "This project is a fantastic example of the diversity of heritage, from our natural landscape to the stories of industry and communities which have shaped it."
A spokesman for Durham County Council added: "Wetland habitats are declining and plans to re-naturalise some sections of the Skerne and tell the story of the area's history create real opportunities for sustainable environmental and economic development across this important part of the county."