Saltburn cliff tramway 'likely' to remain closed for summer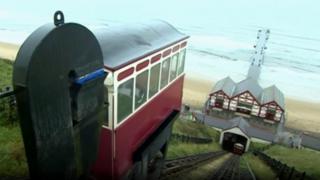 The reopening of Saltburn cliff tramway is likely to be delayed until after the summer, a councillor has said.
The Victorian funicular, which opened in 1884, closed in October for its biggest refurbishment since 2010.
Expected to reopen at Easter, further inspections revealed "more extensive repairs" were needed.
Carl Quartermain, cabinet member for culture and tourism at Redcar and Cleveland Council, said the setback was a "blow".
He said: "Last year we had 150,000 people use the cliff lift and I mean that's been growing year on year, certainly in the last three years and it will hit us hard.
"We'd planned earlier to get this open by late spring or early summer, I'm concerned now whether or not we're going to get it open for the season at all."
The revamp includes restoring the original Victorian features and designs and stripping the mechanical workings of the lift back into component pieces.
Damaged parts are being melted down and recast in the original style.