Stockton Council considers clampdown on ornate memorials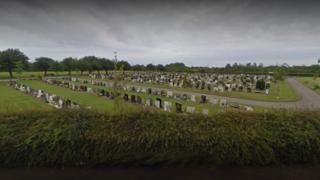 A clampdown on ornate memorials is to be considered amid health and safety warnings at gravesides on part of Teesside.
Small personal tributes and adjustments are permitted on plots in Stockton Council-run cemeteries.
However, the rules are to be reviewed with recommendations due on whether it should tighten up on full-length kerbs, ornaments and toys around graves.
A council report said it could lead to "demonstrations and civil unrest".
The document has advised councillors to find a balance between ensuring the regulations are enforced properly and not upsetting mourners or putting staff in potential danger from any backlash, the Local Democracy Reporting Service says.
It also sounded warnings over the potential damage and access problems edging stones, chippings and fences could cause to council staff cutting grass and pallbearers.
Enforcement of the rules has sparked anger in the past among mourning families who have invested in full-length kerbs.
Of the 59,651 graves looked over in the council's most recent review, it found 119 to be "non-compliant".
Stockton Council's place committee will meet on Monday.